A Life Off Roads
Roads are made for mileage and tracks are built for speed, but the trails are where runners of all hues get to experience true athletic freedom. Here, Tracksmith writers muse on what running off road means to them.
Off Track
Nick Willis
Trails - and more specifically singletrack trails - are the reason I run. Racing around a 400m oval has only ever been the byproduct of the fitness I gained on dirt. And fitness comes easy off roads: twists and turns, uphills and downhills and the constant uneven footing of trail running activate all my senses. Everything is in the moment when I'm focussed on the next step, the next corner, the next obstacle, making sure my foot-plant is secure. Time ceases to exist: trail running is full immersion with nature. It's adventure. It's discovery.
When my wife and I got married in 2007, and decided we wanted to buy a house, I offered up a deal: "you get to choose the house, but I get to choose the location." I just wanted to be within a quarter mile of the vast trail network that meanders around and above the Huron River on Ann Arbor's north side. An enthusiast runner herself, it was a win-win for both of us. For the past thirteen years I've laced up my shoes, stepped out our front door and headed into one of five different trail options to get my daily mileage. I can run up to 14 miles connecting the various trail systems without ever being more than 1.5 miles from my house. Each trail system is around 2-miles, and each has its own charm and character. One has wood chips and runs alongside the river; a couple are filled with steep ups and downs; one is filled with cruisy sweeping turns made for mountain biking; some are scattered with rocks and tree roots.
It's the variety of it all that I love. Sure, I could go to a trail system at one of the nearby state parks in southeast Michigan that have individual trails up to 25-miles long, but those start feeling like you're on a treadmill with each corner and tree blurring together into one uniform visual. Having five different 2-mile trail systems that loop around from my house like flower petals means in theory I can create up to 120 different combinations to make up a 10 mile run. There's always a decision to be made.
Even though I live in the US, I make it home to New Zealand each Kiwi summer for a break from the bleak Michigan winter. Of course, home is family and friends, but I never feel like I've truly arrived until I head into the hills. The hilltop farmland and trails that surround Wellington feel like a different world to the hustle of the capital city, just 20 minutes away. There are steep, 15-minute long (on a good day) climbs up rugged switchbacks, that reward the runner with vast views over the Cook Straight towards the majestic South Island, and there are fast, loose descents where your legs struggle to keep up with gravity, and you know your quads won't thank you in the morning. The best view requires running a gauntlet of beef cattle, usually while battling up to 60mph winds on the exposed summit of Belmont Regional Park. The last thing on my mind on runs like this (and most of my trail runs) is how many minutes per mile I'm running. Being out in the elements, out in nature is the reward. Fitness is the vehicle that gets me to these seldom seen places, and also the reward I take home from the trails.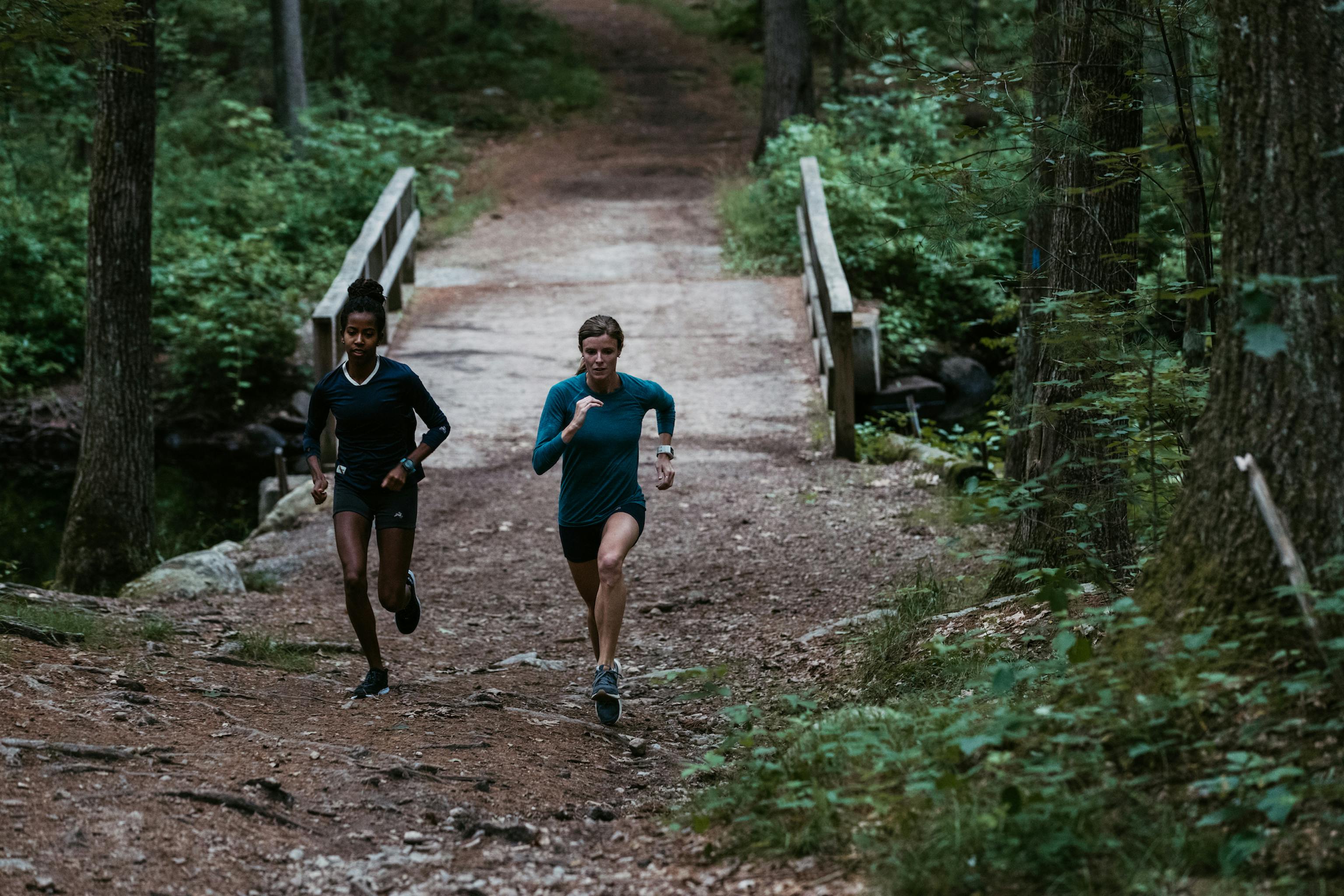 Deeper the roots,
greater the fruits
Kamilah Journet
"Look good, feel good. Feel good, run good." My teammates and I would repeat this to ourselves as we tied team ribbons around high ponies, or tucked tags on the start line just before we toed the line to race laps around the track. It's this same sentence that I repeated to myself as I filled the pockets of my half tights with roasted sweet potato, dried figs and gummy worms and slipped a packet of Maurten into my Pocket Bra. I found myself heading towards the start line of a 36K trail race.
I had spent the past few years logging miles day in and day out, almost a decade post many of my PRs. I had fallen in love with the emptiness of track as I warmed up at sunrise, and the thrill of leaving everything out there, even if no one was watching. But while prep and collegiate athletics laid a foundation of consistency, there came a point where I fell in the in-between. It's not that PRs are out of reach, it is simply that living life, training and balancing working a full-time job means that sometimes having a sick outfit in your gym bag isn't enough to get you out the door at 6pm after a long day of meetings. Those runs just didn't feel good. And as I drifted further and further out of my routine of Track Tuesdays or Sunday long runs and instead leaned into my career, I found myself losing confidence and consistency. I realized there was more to being a runner than simply running. So the transition from endless repeats around the track to bushwhacking through the hillside was an effort to adjust my training to something that simply felt better.
As I hiked up the first climb I was surprised when a fellow racer struck up a conversation. "You doing the 50K too?" I had caught those who started 30 minutes before my race, yet had also committed to racing an additional 15K and one more peak. "Oh, no, I'm in the 36K. It's my first long trail race." "Oh neat. Racing marathons before this?" "No, I'm a miler." Silence, before a response of "Oh wow, that's crazy, you're doing great." I'd never spoken during a race outside of the occasional sorry for stumbling as I tried to position myself to kick, but the encouragement from the trail community was everywhere. I raced comfortably, had fun for the entirety of the race, and I realized that despite the fact that I considered myself a miler, I was at my core, an athlete. I've committed over a decade to doing the little things, both in and outside of physically logging miles. I said yes to shakeout runs during my lunch break, I (sometimes) chose sleep over a third beer, I cheered on friends for their workouts, I rode my bike to run errands, I did planks at my desk and I felt good day in and day out about a lifestyle that I was now realizing allowed me to literally climb mountains. These off road miles aren't about perfect splits and everything going to plan. Very often these miles aren't even about the miles themselves, but the space they create inside you, where you get to ask questions, like, what am I missing? On that mountain, in that community, I discovered that the most fulfilled athletes aren't the fastest milers or marathoners, but the ones who feel the freedom to turn up to any event, over any distance or terrain, and go home smiling. For that reason, maybe a 4:51 miler jumping into a 36k trail race isn't all that crazy after all.
'Trails don't have to be beautiful. They don't benefit from being planned, maintained, or ancient. They barely even have to engage with wilderness. The only prerequisite is agency: the desire to get from A to B by whatever means necessary.'

Edgelands
Andy Waterman
My favorite off road run explores the liminal limits of London's inner orbit. It starts at my front door and heads east, away from the city and into its edgelands, the outlaw spaces between city and suburb, suburb and country. It's never beautiful and it's far from iconic; if anything, as a route it's unexceptional and ugly. And yet, every run on these trails feels like a privilege; an opportunistic power grab back from the city's concrete inevitability. I am at once within and without. Few can say they are masters of their universe, but as I segue unseen between the edgelands' many striated environments, I feel masterful.
Trails don't have to be beautiful. They don't benefit from being planned, maintained, or ancient. They barely even have to engage with wilderness. The only prerequisite is agency: the desire to get from A to B by whatever means necessary.
My run begins in earnest when I swing away from the lake at Wanstead Park and cross the river toward the North Circular, north London's ring road. The trail aligns itself to the road, skirting derelict soccer fields and as-yet-unrenovated industrial sites, separated from the eight lane highway by only one or two rows of trees. Traffic noise mutes every step, and litter, discarded by the vehicles above, fills the trees. I pass through an underpass, briefly along the road and the sad sacks stuck in traffic, and back onto the trail, following the river. The reeds run high and the road noise dies down momentarily, before I turn and find myself beneath the road itself. The situation, if not the sight, is so majestic I could roar.
I pass the remains of burned-out cars and continue up the river, between more spacious suburbs. Human interference ends where 7ft fences butt up against the trail, where private becomes dramatically public, with its unplanned horticulture and seasonally impassable cambers. And then I'm dumped at a footbridge over a river, beneath a sky high victorian arch, built to carry trains overhead. The footbridge is currently fenced off which creates a need to navigate the putrid river on foot, hopping from brick to car tyre to try and stay dry.
Beyond post-war low-rise shops and the tail-end of the tube and I'm back into the woods. This is an orphaned outpost of Epping Forest, and the trail takes me uphill into the expensive suburbs, where the houses, the cars, and the egos are bigger, but the singletrack remains narrow and the runner slips by unnoticed, anonymous and gladly irrelevant to those wishing to make a more tangible mark on the world.
Slowly, the network of paths conspire to point me back towards the city, and I'm propelled onwards by its gravity. By the time I get home I've done 18 miles. Sometimes it's 15, other times it's 20; no two runs on these trails are ever the same. There is no defined route to follow, just a tumult of trails, unrecorded on any map, that go this way and that and command your attention and imagination at every juncture. That is the promise of Off Roads. The national parks can keep their waymarked, sanitised trails. For me, the edgelands are the thrill: a junkyard of endless wonder and athletic opportunity.