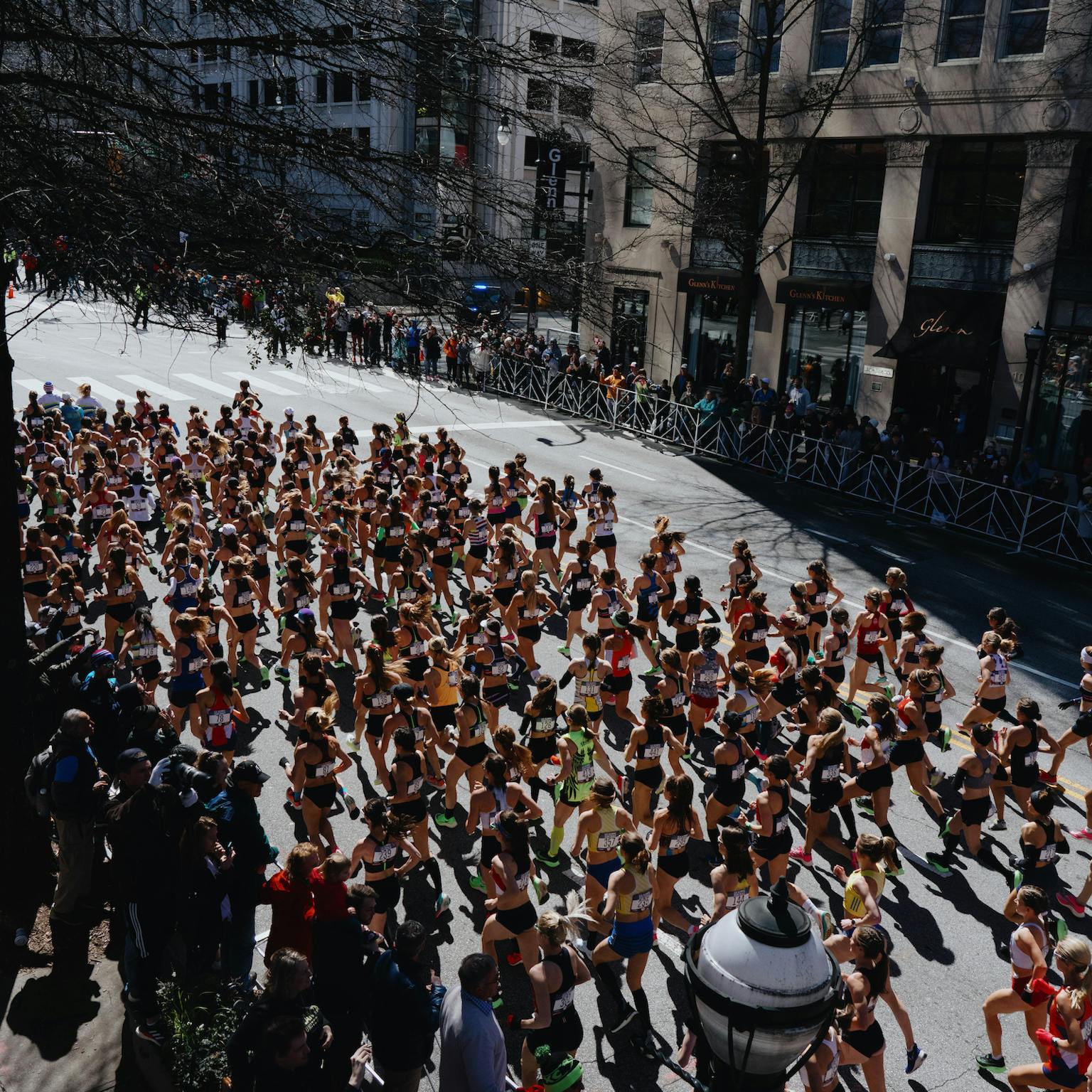 Eugene 22: Marathon Previews
From issue one of The Amateur, we explore the likely movers and shakers in the men's and women's World Championship Marathons
US Women's Marathon Team Looks to Shake Things Up
By Emilia Benton
With a flat, looped course and a start time of 6:15 a.m., when temperatures are likely to hover around 55 to 60 degrees, the women's marathon at this World Championships will be in stark contrast to the midnight marathon in Doha in 2019, when it was still over 90 degrees and nearly half the field dropped out.
Team USA was originally supposed to comprise Sara Hall, Emma Bates and Olympic bronze medalist Molly Seidel. Hall, 39, briefly held the American record in the half marathon after running 1:07:15 at the Houston Half Marathon in Jan, while Bates, 30, set her current personal best of 2:24:20 in her second-place finish at the 2021 Chicago Marathon in sweltering conditions.
However, on July 1, Seidel announced she was withdrawing from Worlds due to a hip impingement she has been dealing with since dropping out of the Boston Marathon in April. Instead, Keira D'Amato, who broke Deena Kastor's 2006 American record at January's Houston Marathon in a time of 2:19:12, will be filling in as an alternate. 2021 Olympic champion Peres Jepchirchir, who was a late addition for Team Kenya, withdrew with a hip injury as of July 11, further changing the potential dynamic of the race. Defending Doha world champion Ruth Chepng'etich, also of Kenya, and who edged out Bates in Chicago, will be competing, however.
For D'Amato, who also works as a Realtor in her hometown of Oakton, Va., committing to a marathon with less than three weeks until race day was somewhat comical, even despite the fact that she has a solid base already built. Her Strava account shows that she had run an 18-miler on June 27 and has been averaging about 70 miles per week for the last four weeks. The only major change to her training was adding a long tempo run of 22 miles in lieu of the Peachtree Road Race 10K in Atlanta on July 4, three days after receiving the Worlds news. Her final week leading up to the race wasn't without minor stress, either, as she had to rush to renew her expired passport to meet World Athletics' proof of citizenship requirement to compete.
"Not much can be done to change your fitness base in two weeks; any great change takes at least six weeks to take hold, so really all I could do in two weeks prior to the race was screw it up," D'Amato tells The Amateur. "So instead, we've prioritized staying healthy and kept doing what we're doing, as there's really no cramming for a marathon."
D'Amato's spring racing results coming off the American record in the marathon have boosted her confidence as well, as she placed second to 2020 Olympic Marathon Trials champion Aliphine Tuliamuk at the USATF 25K Championships in Grand Rapids, Mich., on May 14, followed by a third-place finish at the NYRR Mini 10K on June 11, where she set a personal best of 31:03, and then a win in 31:17 at the BAA 10K on June 26.
D'Amato noted that she typically trains like a 10K runner with some long runs sprinkled in, and having done those shorter races averaging 5:00 per mile or faster leading up to the world marathon competition, there isn't a pace anyone could take the marathon out in that would intimidate her.
"I almost feel like I'm playing with house money; this isn't the way I would have built up for a marathon, because if I knew I was going to do this race, I would have done things differently," she says. "I know I'm going to go big, take risks, and lay it all out there. Everything I have in me is going to be left on that course. I feel like I have nothing to lose, but I also feel dangerously fit."
Despite having such a short time to mentally prepare for the marathon, it was easy for D'Amato to say yes to the opportunity, knowing that, at 37, it could be her one and only opportunity to represent her country at such a high level.
"It has been a dream of mine to wear a USA jersey for as long as I can remember," she says. "I didn't do that in my first round and I had to move on, accept that I fell short of all those goals, and forgive myself. I really thought I would never compete again, when I had so much unfinished business. Having this opportunity now is just unreal. It's really powerful and it feels really special."
***
Men's Preview: Ethiopia Strong, Rupp Could Compete
Words by Liam Boylan-Pett
From 1973 to 1984, Eugene was home to the Nike OTC Marathon, put on by the Oregon Track Club. And athletes ran fast there. Joan Benoit ran 2:26:12 in 1982. Tony Sandoval and Jeff Wells raced to a tie in 1979 in 2:10:20. The race ceased in 1984, before returning in a new form in 2007 with the Eugene Marathon. Finishing times at the Eugene Marathon haven't quite returned to elite levels, yet – the men's course record is 2:16:07 and the women's is 2:33:15.
World-class marathoning is set to return to Eugene on July 17th and 18th, however, with the men's and women's marathon at the World Athletics Championships. In the men's race, 12 athletes boast personal bests under 2:05, and plenty of others on the cusp. There are 70 athletes slated to run the three loop course through Eugene and Springfield, with the race set to begin at 6:15 a.m. on July 17th.
While World No. 1-ranked Eliud Kipchoge is not competing, seven of the world's top-10 ranked athletes will be racing, including a quartet of Ethiopian athletes who could all vie for the win after the country swept the top two spots at the 2019 World Championships in Doha.
Tamirat Tola (PR of 2:03:39) and Mosinet Geremew (PR of 2:02:55) are Ethiopia's top two on paper. Tola, who won bronze at the 2016 Olympics and silver at the 2017 World Championships, is ranked No. 2 in the world in the marathon, and could take his first global individual title after taking third at the Tokyo Marathon in March. Geremew was second at the 2019 World Championships and won the Seoul Marathon in 2:04:43 in April. The 2019 World Champion Lelisa Desisa is back to defend his title, but has not had success at the distance since his brilliant Doha run.
There will be a handful of other athletes challenging for the win and a spot on the podium, including the 2021 Tokyo Olympics' second-, third- and fourth-place finishers who were separated by only four seconds. Abdi Nageeye of the Netherlands followed up his silver medal from Tokyo with a personal best of 2:04:56 in Rotterdam in April. Bashir Abdi of Belgium, who won bronze in Tokyo, ran a respectable 2:05:23 in Rotterdam.
Kenya's Lawrence Cherono, who finished two seconds out of the bronze medal position in Tokyo, will lead Kenya's team. With a best of 2:03:04, he could certainly contend for the win. Other athletes to watch include Brazil's Daniel do Nascimento (PR of 2:04:51), Kenzo Suzuki of Japan (2:04:56), and the almost always competitive Geoffrey Kamworor of Kenya (2:05:23).
Oregon-born and Portland resident Galen Rupp (2:06:07), who medaled in the 2016 Olympic marathon, is the top American contender, running 2:06:35 at Chicago last fall. Shooting for the American record in the marathon, he told Runner's World, "I could not be more excited to be running [in Eugene]. It's my favorite place in the world to compete."
With an early start to beat the heat, and a flat, looped course, conditions should conspire to create a fast race that follows the form book much more closely than Doha's heat-affected midnight marathon in 2019. That said, Championship races always throw up surprises. Who's your money on?