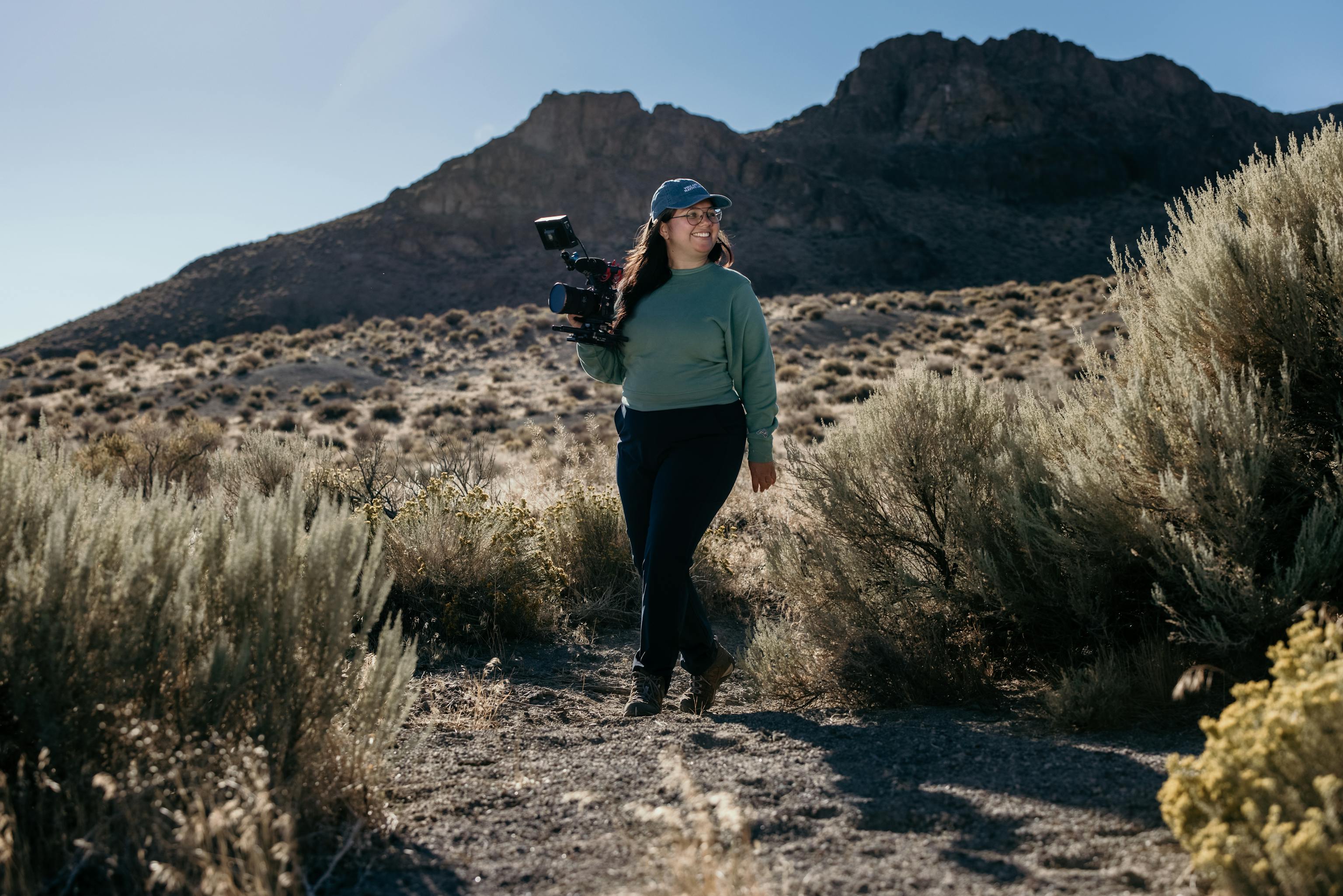 Remaining Native
Interview by Sheridan Wilbur
Photography by Jarette Werk


Like many documentarians, Paige Bethmann's film was inspired by something personal. Her feature-length documentary Remaining Native tells the story of the extraordinary young runner Ku Stevens, and his efforts to remember his great-grandfather's escape from boarding school. One of this year's Fellows, we spoke to Paige to understand her connection to the story and ambitions to shine light on the resilience of Indigenous people.
SW: Could you share with me how you started filmmaking?
Paige: Growing up, my grandmother was a traditional Mohawk storyteller. I was fascinated by the way that she could tell stories. She'd say, well, 'You don't use books because it's passed down to us, generations to generations.' I've always been a storyteller because of her.
When I was in high school, I got a camera in my hands and started making silly videos. I went to Ithaca College for filmmaking for television and journalism. After graduation, I moved to New York City and landed at Vox Media, working across all of their brands (Vox.com, the Verge, Polygon). When I got super passionate about a subject I felt empowered to take it on my own. That's how I got started on this project… I was upset about the news that came out about the unmarked graves [at Indigenous boarding schools] discovered in Canada. My grandparents experienced this by going to boarding schools in the U.S. I saw the story of Ku and his run to commemorate his grandfather's story and thought, 'Wow, what an amazing opportunity to film someone running across the desert for that purpose.' As a young leader in his community, he's really stepping up to bring awareness about that history.
When my grandmother passed away, I felt lost. We were so close. I felt like I was losing a connection to my culture because she wasn't there. I felt this feeling of reconnecting as soon as I started doing this project. It was very emotional and important for me to do this work because in some ways, I'm talking to her through doing it.
SW: Has there been anybody else along your journey that's inspired you and helped to guide this project?
Paige: I'm working with the Native American Boarding School Healing Coalition, which is working with elders, coming up with resources to help people who have dealt with this trauma. I've been inspired by their work and their ability to navigate difficult conversations. My team has inspired me too, donating time and they believe in the story. There's a lot of people within my family and community that have paved the way before me who helped me say to myself, 'Oh, I can tell Indigenous stories and be successful.' There aren't very many that we can look to in today's world.
So much has been lost in terms of culture and tradition. You look at the story of Ku's great-grandfather and you see how he escaped, running away three times as an eight year old. It's mind boggling but he knew how to survive. He knew where the berries grew and how to build a fire. Our young people don't know those stories or skills as well, without the assimilation process. Part of my motivation is to revitalize our tradition.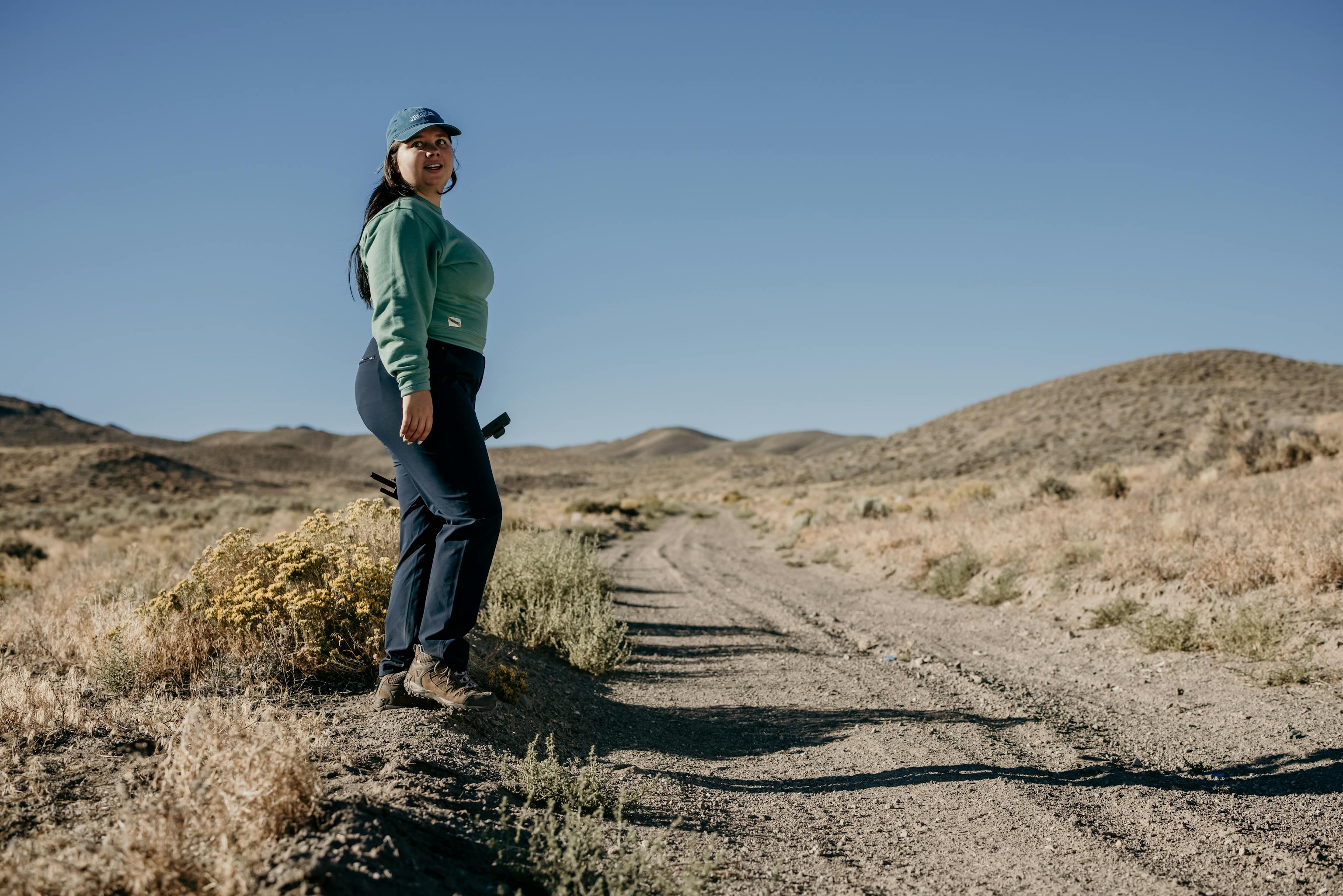 SW: You're approaching this issue of lost culture and lack of connection to the land – visually and emotionally. What do you hope your documentary will achieve?
Paige: Education is a priority. This history isn't taught in schools. We rarely get past the Trail of Tears then Indigenous people just fade away. We hope to make the film a part of that curriculum in schools and facilitate conversations around assimilation and the Boarding School era. Secondly, it's meant to inspire and create spaces of hope: with hope, you can have healing. Also, this film is a way to show Indigenous excellence. Running is inherently Native. It's something that our people have done for hundreds of thousands of years on our lands.
This story is about Ku, but I look at his favorite runner, Billy Mills. He won the Olympics in 1964. Why haven't we had any other runners to champion this tradition we've been doing forever? It's nice to see someone who can enter that space and to be so successful – to show that other Native kids can win.
We're so excited because Ku committed to the University of Oregon. We actually went there and filmed him on Hayward Field. It was so emotional for Ku. He crouched down and touched the track and said, 'It took eight years to get here.' It was such an awesome moment because of how hard he's had to work and the chances for him to be recruited by Oregon is so low, especially coming from Yerington, Nevada [population 3,000]. He'll be one of the very few Native runners or Native athletes to ever exist at the University of Oregon.
SW: Could you share more about your relationship to running?
Paige: I grew up as a figure skater in Upstate New York and being an athlete has helped me see this story. I'm not a good runner. I have injuries because of my skating background so it's been hard to get into running myself. But running has always been special in our culture. We used to have people in our communities who are called runners. They communicate via email now, but back then they used to run huge distances to deliver messages, spanning hundreds and hundreds of miles.
I have a great appreciation for any runner. Especially Native runners who are able to run on their ancestral lands: it's a deep feeling being on the Remembrance Run with Ku and everyone feeling that energy from the Earth. You're meant to be there, it's powerful. Making this film has inspired me to go after running again.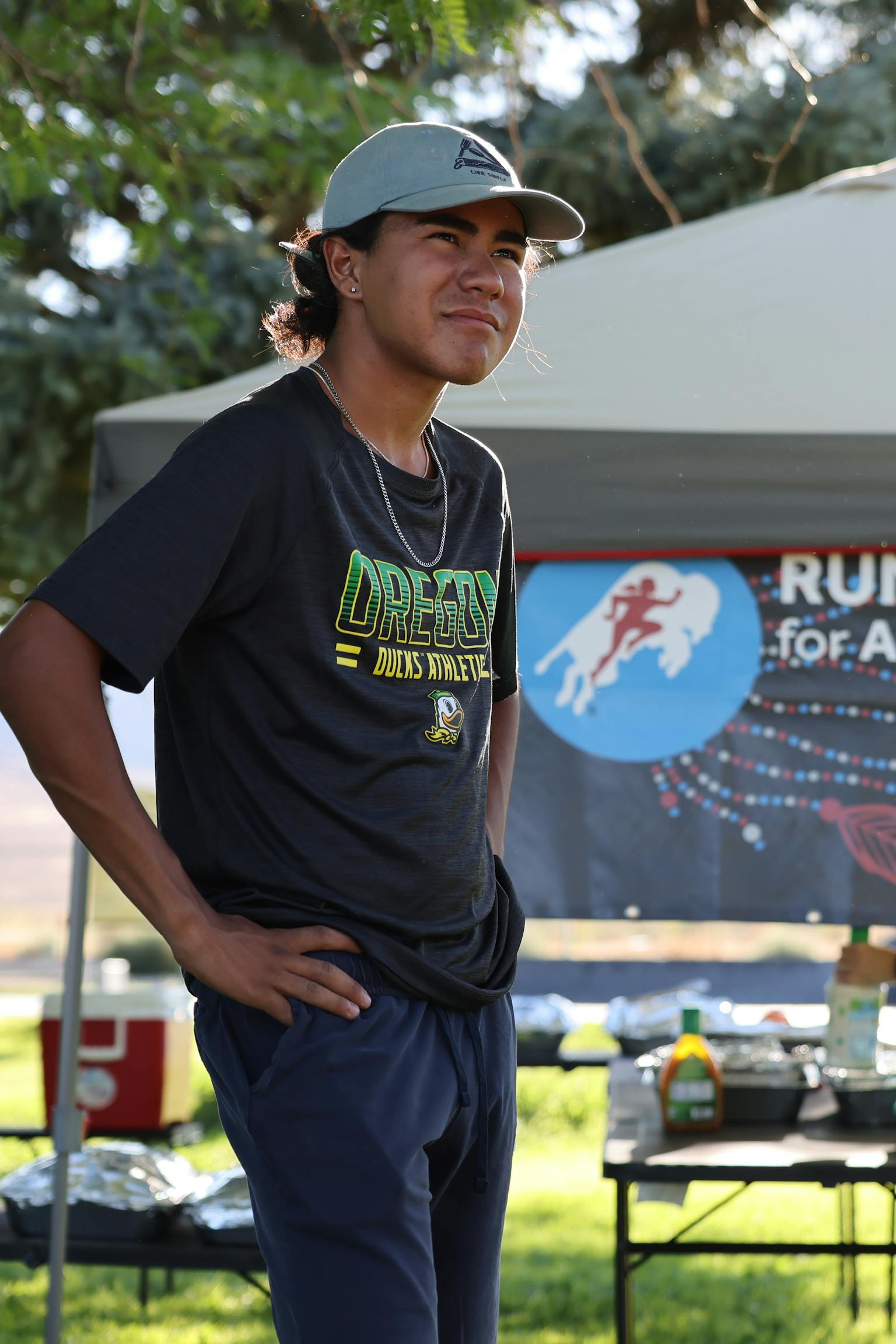 SW: Could you walk me through the process of meeting Ku? How did you build trust with your subjects and creative partners, ultimately gaining consent to film them and protect their stories?
Paige: As a filmmaker you have to be willing to be vulnerable with your subjects. That's the way to build a relationship. For me, coming from a background and a community that has experienced the same trauma in regards to the legacy of Indian boarding schools, it was a fast building relationship. I poured my heart out to Ku's mom in a Facebook message. I asked her if I could come to film the Remembrance Run and we started talking. For all of us, the main goal of the run and the film was to bring awareness and find spaces for healing while telling the story of our ancestors who went through this.
Oftentimes our stories are not told in the right way. We don't want trauma to be the focus. The focus is on resiliency – the success that we've been able to have despite years and years of obstacles that have been put in our way as Indigenous people.
I've talked to Ku's mom every day since I reached out to her last August. That ultimately led me to move across the country and live in Reno because it's important for me not to take a parachute approach to tell this story. I didn't want to go in and be like, 'Tell me about your trauma' then leave. It was so important to be a part of the community and understand where Ku comes from, who is supporting him, who isn't supporting him. We don't want him to give canned answers. We want to show what it's like to be a teenager split between two worlds going into competitive athletics, but taking a role as this young leader. I wanted to make sure that this film really stayed in an Indigenous perspective: in front of the camera and behind the camera. We need to keep the agency of our story.
As a filmmaker, it's challenging – I'm making this film. But transparency needs to happen when you're working with communities like the Pauite community in Nevada. You want to make sure you're not being extractive. How can we build reciprocal partnerships?
SW: It's eerie in a way, to show people a mirror to themselves. You've been able to remove yourself as much as you can, but ultimately it's your work that they see themselves reflected in, for the first time.
Paige: Every filmmaker finds someone in their film that reflects part of who they are. I've really found that with Ku. I see myself in him. He started doing this for his community. I have those same goals. I have filmed him with the same level of vulnerability: he's being vulnerable by letting us into his life and it's a part of who I am as well. It's a mutual responsibility to do that in a way where I also open up a part of myself. That kind of makes the power dynamic a little more acceptable.
SW: That's important, considering how you wield power behind the camera. And because you see yourself on the other side of the camera, it's a way to redistribute the authority rather than feeling like you're coming in, grabbing these intimate shots and then running away. You're part of this story just much as Ku, even if you're not being visibly seen in the film.
Paige: Exactly. For me, it's built my confidence around my own identity. Assimilation has taken a toll on so many Native families. It has allowed me to be more understanding about things that have happened in my life that I felt either as an outsider or I didn't fit in. You can look at history and understand 'Oh, like it was because like, it was designed for you to feel this way.'
This process has helped me work through intergenerational trauma and be proud to be who I am, accepting all parts of my identity. It's been a beautiful part of the experience. When I work on this project, it's personal. That's how I'm able to keep going… There's a lot of things you have to consider outside of your control but my intentions behind the project are consistent. I care so much that it gets done.
It's so important to understand your mission. I don't view this like a job. This film is my responsibility as a Indigenous person who has the resources to make something like this. We all bear these legacies of the Boarding School history but I'm generations removed. I'm able to use that distance to be more vocal, to put myself out there, because it's difficult for our elders to constantly explain the history they had to endure. I want to be a caretaker of those stories.
SW: It's a responsibility to hold the trauma that your elders have gone through and you're taking some weight off them from feeling like they have to keep explaining. How are you able to take care of yourself and the heaviness of the work that's required for this film?
Paige: I'm still trying to figure it out. My support team is important. Being able to take a step back sometimes, and look at something positive, go out in nature and just be with yourself is helpful. This film touches on this dark topic, but Ku is this bright spot. He represents so much for our communities, using the same level of determination to achieve his goal, much like his great-grandfather leaving the boarding schools. Ku carries that memory and takes that very seriously. He had written his grandfather's name on the Nike logo of his racing flats. When he crosses the finish line, he points down on his shoe because he wants people to know this race is run for his grandfather.
That helps me get through it. This is what we need to see. We don't need to see more tears. We need to see more celebration of what we've been able to overcome. This film has made me excited to work on other stories. I want some teenager who has a dream to feel relieved and seen and inspired by this story. And know that they can do anything because their ancestors survived this terrible trauma. They're a result of that resiliency. Your existence is your resistance.