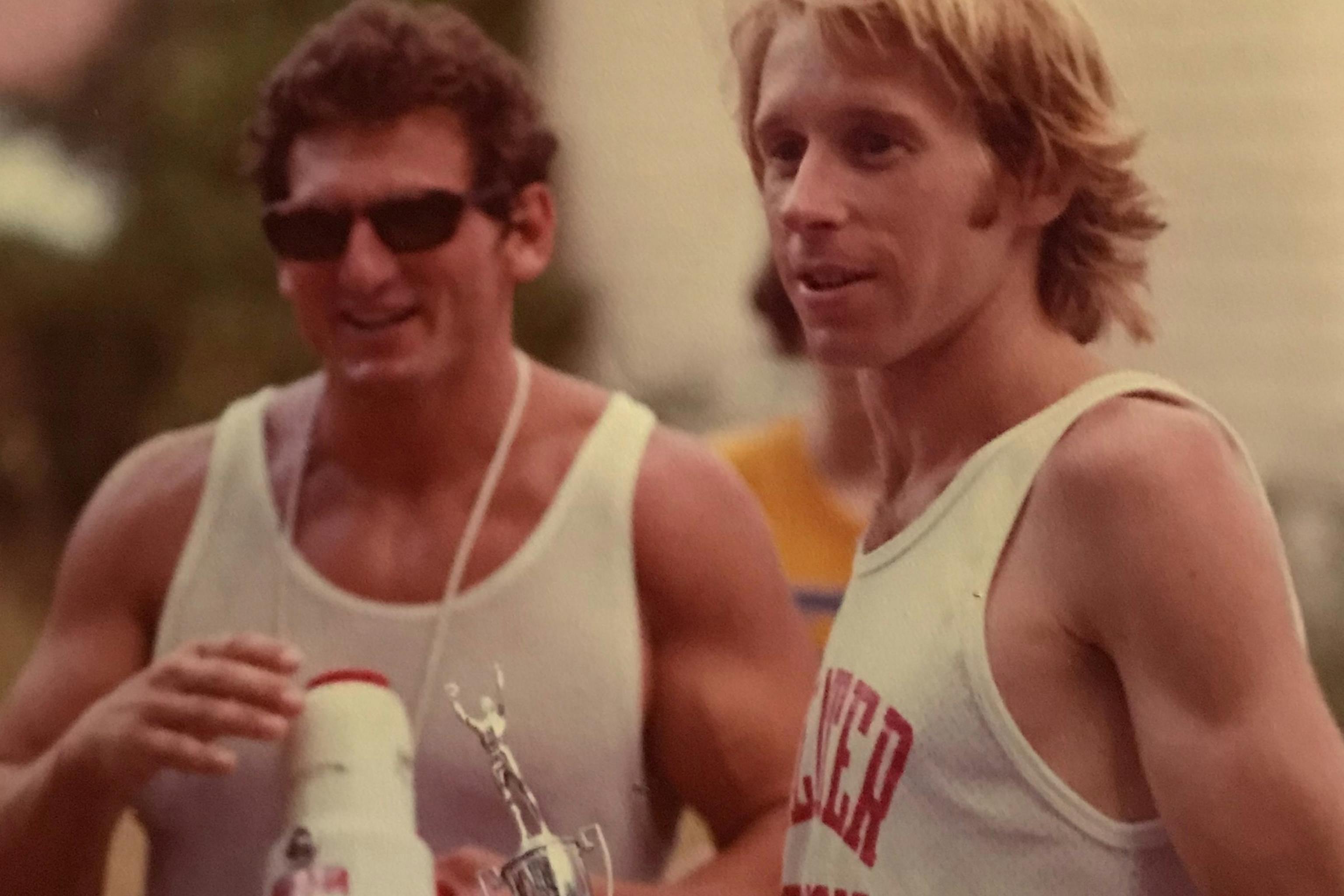 Remembering the Hal Gabriel Birthday 10k
Words by Toni Reavis
Photos courtesy Hal Gabriel
New England is historically the birthplace of — well, just about everything in America, including road racing. Before Frank Shorter, Jim Fixx, and Dr. Ken Cooper's Aerobics kicked off the Running Boom in the 1970s, distance running had already been a fixture in New England for decades, practiced by a quirky band of flinty iconoclasts. Yet if you peruse the list of the largest races in the nation, you'll be hard-pressed to find any in New England outside the Boston Marathon. It makes you wonder, why this seeming anomaly?
One reason is the sheer number of races. I remember early in my Runner's Digest radio show days pitching the show to a major local station whose program director told me to "come back when it's running season." To which I said, "when, exactly, is that? It's a year-round sport here in New England."
Most colleges and universities have an indoor and outdoor track season, plus cross-country (welcome back Brown University!), and the road race scene in New England spans the spring, summer, fall, and even in the dead of winter; it never stops. Dozens of communities stage races each year and in their collection, spread the running population out over a wider area rather than forming them into singular mega-events.
New England runners faced a real shock wave when the sport caught on as widely as it did in the 1970s. But that quirky New England character never disappeared despite the wave of popularity. Even as the sport grew in prominence and men like Shorter and then Bill Rodgers, and women like Joan Benoit (Samuelson) and Patti Catalano (now Dillon) became household names and commanded large appearance fees, there were still events that would attract major stars with nothing more than friendship, a cup of beer, and a convenient port-a-john, like the Hal Gabriel Birthday 10K. This race ran from 1976 to 1981 in Newton, Massachusetts.
The Boston running scene may have its Boston Marathon, Falmouth Road Race, and Tufts 10K For Women, all internationally renowned events, but tell me of another running town with an event fielding the likes of Bill Rodgers, Steve Scott, Amby Burfoot, Jack Fultz, and Patti Catalano with no entry fee, no athlete budget, and began and ended in front of somebody's house on his birthday?
"Toni, I'm honored. If you have to die, now's the time." — Hal Gabriel, July 25, 1981.
Where to begin to tell the tale of a legend? I don't mean Mr. Rodgers. On July 25, 1981, Mrs. Gabriel's boy Harold entered the master's division on the sixth and final edition of his birthday 10K, an event ushered in by his wife, Elaine in 1976.
"We used to say, 'wouldn't it be nice, blah, blah, blah,'" Hal recalled recently from the same modest home where he and wife Elaine have lived and raised a family for 54 years. "Without me knowing, Elaine went and talked to some people and with their help…We had to limit the field, because the area is not conducive to the New York City Marathon."
The Gabriel home is nestled into a quiet nook in Newton near Boston's West Roxbury neighborhood. The race course itself wound through local streets and out along larger area thoroughfares, and featured several stiff climbs. The inaugural race gathered a field of about 150, but over the years, there were never more than 250 runners, though some were among the best in the world.
Especially in this world of iconoclastic ectomorphs, Hal Gabriel stood out. At 5'9', 175 pounds of brute muscle and life force wrapped in eternal youth, the word 'unique' hardly covered the man.

"When you grow up, you have to learn humility," said Hal. "This is humility."
Hal was either blessed or cursed with a body that had a mind of its own, and no off-switch. He ran over 100 marathons, 20-odd Bostons, and in 1980, he finished 17th at the Ironman Triathlon in Hawaii. This event was seemingly made for this runner who ran three, four, or five times a day and was still a weight lifting hulk.
The stories of Hal's feats are legendary. His good friend, Todd Miller, the first Nike promo man on the East Coast, met Hal while he did inverted push ups during pauses in his running regimen. Hal was forced to "hit the doctor" at the 24 mile mark of one Boston Marathon after the good doctor had the temerity to suggest to Hal that his continued falling down due to fatigue should be a sign to drop out.
"Those last six to eight miles were a MOTHER!" Hal said.
Later, after finishing, Hal pedaled back home on his bicycle with his daughter Sharon perched behind him, holding on tight.
While he was no speed demon, Hal was as relentless as the Terminator. Three to four hours of sleep a night was a Gabriel hallmark, as was competing in a marathon every weekend for five, six, at times eight consecutive weeks at times. His normal routine looked like waking up then training by 6 a.m., then going to court all day where he worked as a court stenographer. Then, afterwards he'd work out again at the YMCA before going to bed at 2 a.m.
For its first five years, the Hal Gabriel 10K started at 1 p.m. on the nearest weekend to his July 25th birthday. It wasn't until 1981 when Hal gave in to his mere mortal friends, "pushing the start time back to a less taxing 5 p.m." Why did he make the change? Did someone ask him?
"I guess somebody who does an Ironman would start a mid-summer road race at the statistically hottest time of the day," said one participant.
Four-time Boston and New York City Marathon champion Bill Rodgers is a particularly close friend of Hal's, having won the birthday race twice (1977 & 1979). In 1977 Bill set the course record (31:39) on the hilly neighborhood layout. Three years later, his mark was broken when America's greatest miler, Steve Scott, happened to drop by when he was in town visiting his shoe company sponsor at the time, New Balance.
"I originally planned to jog it with Kevin (Ryan, New Zealand Olympian)," said Steve after his 31:25 course record. "But there's something about me, I can't stand anyone in front of me. So I said, 'let's see where I was with two miles to go, and my competitive nature took over.' It was hard after yesterday."
Yes, the day before on another classic New England race weekend, Steve had been down along Boston's South Shore where he won the Gurnet Classic Beach Run, posting an equal 24:53 for the five-miler with Greater Boston Track Club stalwart Vinny Fleming, who had finished fifth in the Boston Marathon in 1977.
In the 1980 birthday race, Hal, as per tradition, took the race out for the first mile. "It was around 5:10-5:15, a little over my head. When Steve and Kevin went by, they picked me up by my elbows and carried me for a few steps."
1968 Boston Marathon champion Amby Burfoot ran alongside Hal the entire way that year.
"There were epithets at every mile marker," he laughed. "Hal was not pleased with his time. At three miles he looked at his watch and said, 'Sh*t, six-minute pace!' Yet Hal was greeted more vociferously than any other runner, including the more famous and faster."
"Anthony, they picked me off at three, and croaked me!"
Wheel-measured, with water stations at 2 ¼, 3, and 4 ¾ miles, awards for the top ten open, and top five masters, and an ice cream truck to follow, the Hal Gabriel Birthday 10K occupied a special place on the New England road racing calendar during the height of the Running Boom. After each win, Hal politely refused cash prizes, saying "no money, please"and after each one, Hal would utter those now famous words that still define this one-of-a-kind New England character.
"I've had some thrills in my modest career. But this is surely one of the greats."
It sure as hell was.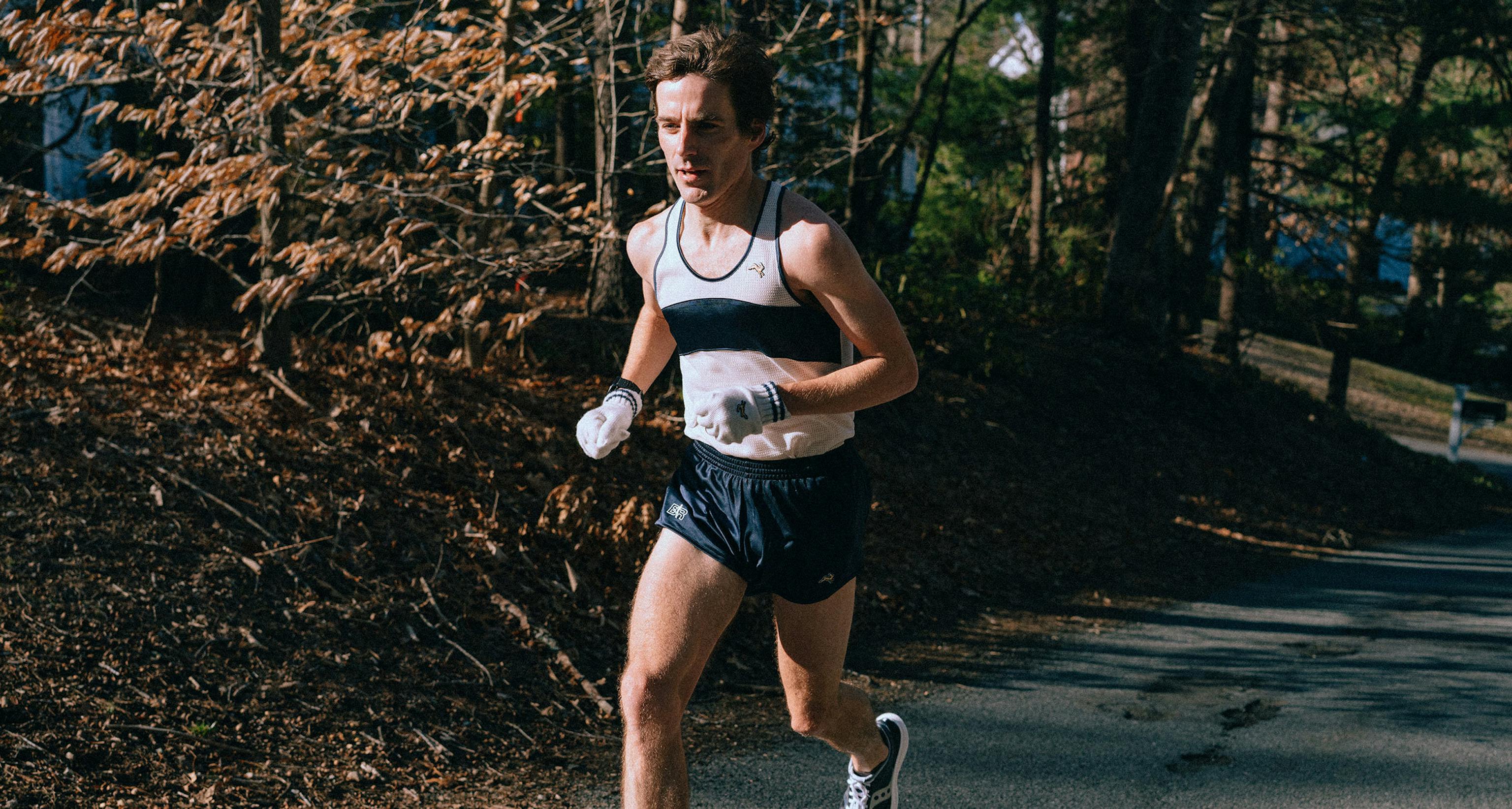 The Bill Rodgers
Collection
Bill Rodgers & Company pioneered many of the refinements found in the running clothing of his era, from silhouettes cut differently for men and women to materials selected with the marathon in mind. The Tracksmith Bill Rodgers Collection builds on these innovations and celebrates the spirit of Bill's Boston heyday, an era in which running was as fun as it was fast.