This Land is Their Land
This year the Boston Marathon took place on Indigenous People's Day. Wings of America Executive Director, Dustin Martin, and artist Yatika Starr Fields lined up in Hopkinton, with their community and its history on their minds as they raced towards two new art installations in Newton and Copley Square.
Words by Sheridan Wilbur
Photos by Benjamin Weingart
Dustin Martin ran a shakeout on the Boston Marathon course a week before the race. Unlike many runners who took on Heartbreak Hill, Martin sensed a connection with his ancestors who had covered this same land, decades, centuries, even millennia before.
On October 11, Martin, a member of the Navajo Nation competed in the 125th Boston Marathon. Unusually, the date coincided with Indigenous People's Day, rather than Patriots' Day as it normally does in April. It's a day that has prompted President Joe Biden to honor "our diverse history and the Indigenous peoples who contribute to shaping this Nation." In the week before the race, Indigenous People's Day was also officially recognized in Boston with mayor Kim Janey stripping official recognition of Columbus Day.
"There's still so much that this country doesn't know about its first inhabitants," says Martin. He's the Executive Director of Santa Fe-based Wings of America, an organization that derives inspiration from Native communities, using art and running as a conduit to continue their rich running histories. In Boston, the course crosses land that was once primarily inhabited by Native American tribes, including the Massachusett, Wampanoag, and Nipmuc people. A city with a complicated past,Boston was built on the displacement and oppression of Indigenous people, who had lived here for thousands of years.
As Martin jogged his way up Heartbreak Hill a few days before the race, he told me what went through his mind: How long have these mansions been here? What did the land look like before colonization? Before any foundation was poured into the ground, what was the road like when "Tarzan" ran here?" Covering this ill-gotten ground, Martin put prayers into motion.
Wings of America members express themselves through movement, of both their feet and their paint brushes. Martin also partnered with the B.A.A. (Boston Athletic Association) and City of Boston to commission two Wings artists to paint a mural in their runners' honor over the weekend. Less than a block from the finish line, Tulsa-native Yatika Starr Fields (Osage, Cherokee and Muscogee Creek Nations) and Robert Peters, a local artist (Mashpee Wampanoag) created a public mural that represents indigenous runners from the past and present: Ellison "Tarzan" Brown, Jordan Daniel, Tom Longboat, Patti Dillon and Andrew Sockalexis. "We gotta fight to keep it alive, to bring it out," says Martin.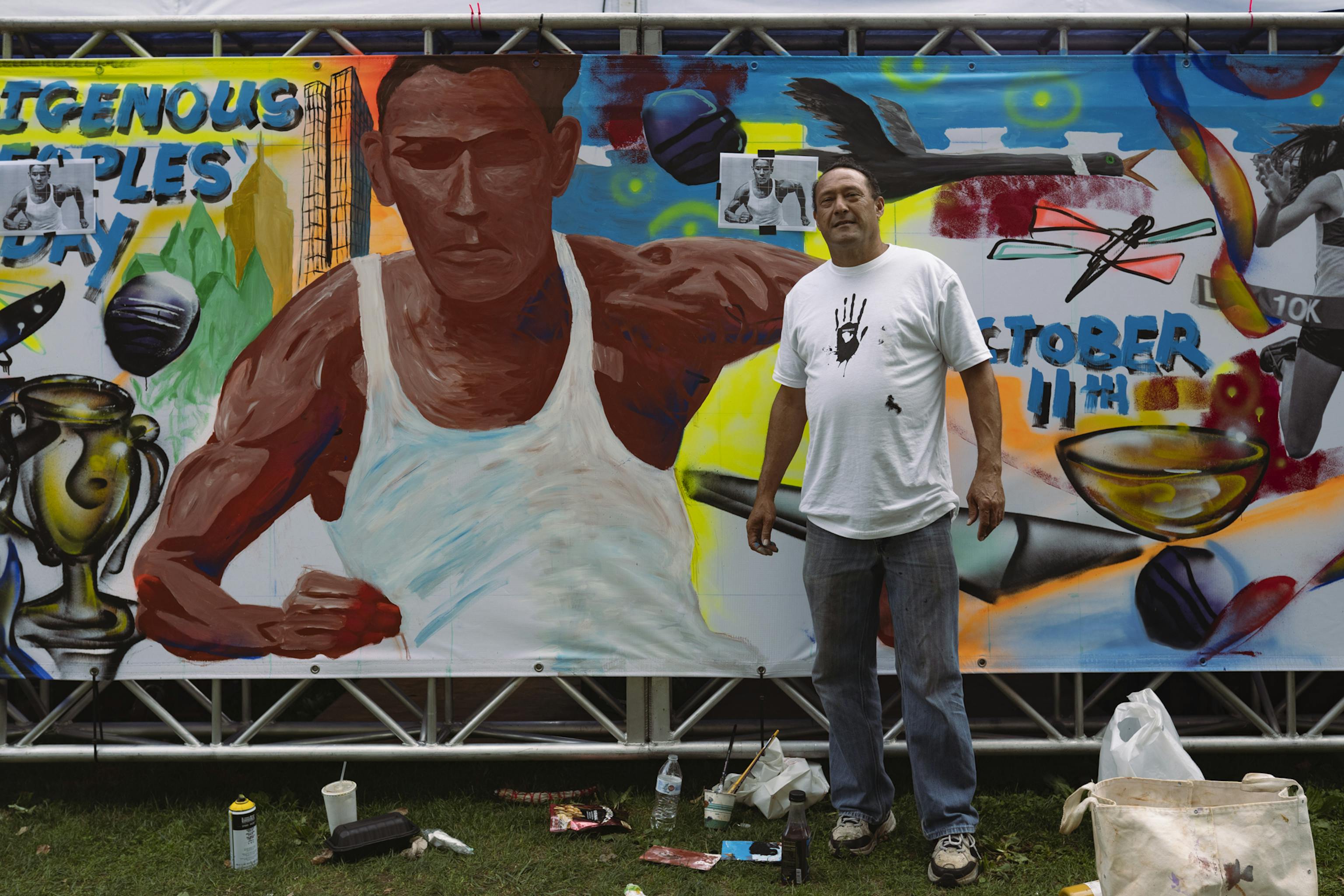 Respect them so
they run free
Eighty-five years before Martin arrived in Newton, another Native runner, Ellison "Tarzan" Brown conquered the harrowing hills in leather-soled shoes. In the 1936 Boston Marathon, Brown sped out to an early lead at such a blistering pace that the media followed the slower runners in the pack behind him for five miles. Recalling his historic performance, he said, "I was fresh as a daisy." Brown ascended the hills alone and said, "I knew if I could get over the first hill, there was only one more to climb." Around the 20 mile mark, the defending champion, John Kelley, made a decisive move and caught Brown at Hammond Street – nearly the top of the hill. As Kelley passed Brown, he reached out and patronizingly patted Brown on his rear (Kelley later claimed the gesture was an act of respect). A riled Brown charged ahead and left Kelley in pieces – or what he thought were pieces. The following day, a Boston Globe reporter wrote in the paper Brown broke Kelley's heart – birthing the legend of Heartbreak Hill.
Brown became an instant hero to Native people, winning his first Boston Marathon in 2:33.40. He went on to become an Olympian in 1936, and in 1939, he won Boston again. To Brown, running was the only viable route out of poverty. "What he did in this race is nuts," says Martin. "Him winning directly challenged everything spectators were taught to think about Natives at that time, and sadly, today. Natives come from deficit and poverty. We're weary from injustice. So how could our communities spawn such a champion?"
He points at the Narragansett tribe member's stride on the mural. "The world doesn't see that, the rest of the world doesn't see that. They don't like to even think about Brown, because it points to the fact the Nation they love, does some really shady things to people to exist the way it does." Brown died in 1975, at age 60, after he was murdered in the parking lot of a Rhode Island bar.
Forty-four years later, Martin had run faster than Brown on the Boston course – as a charity runner for Wings of America, running 2:26.5 in 2019. But he's adamant they shouldn't feel like they have to run fast to keep the respect of the race organizers.
"We love this country too. But we love it for the land, not for the economy," he says.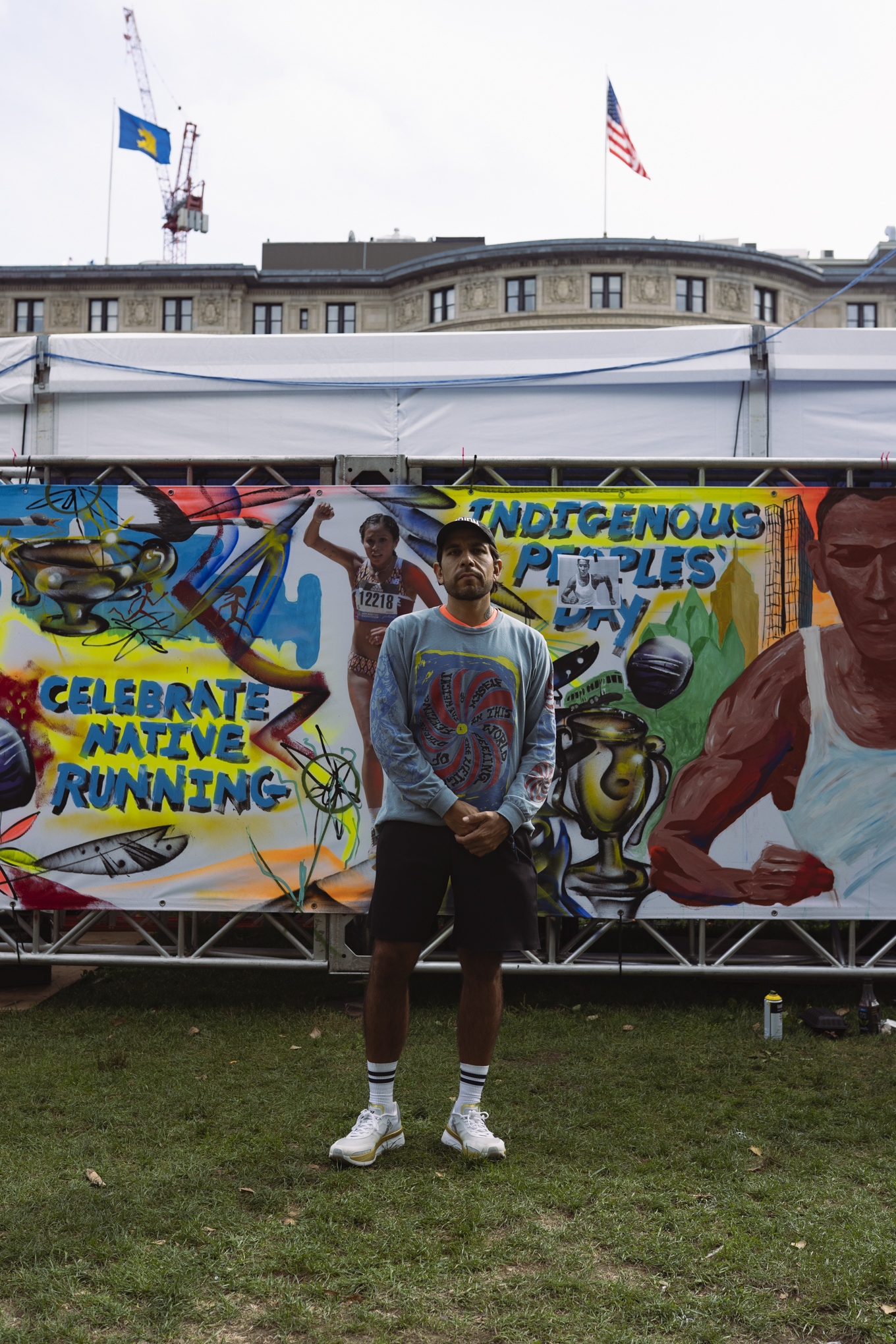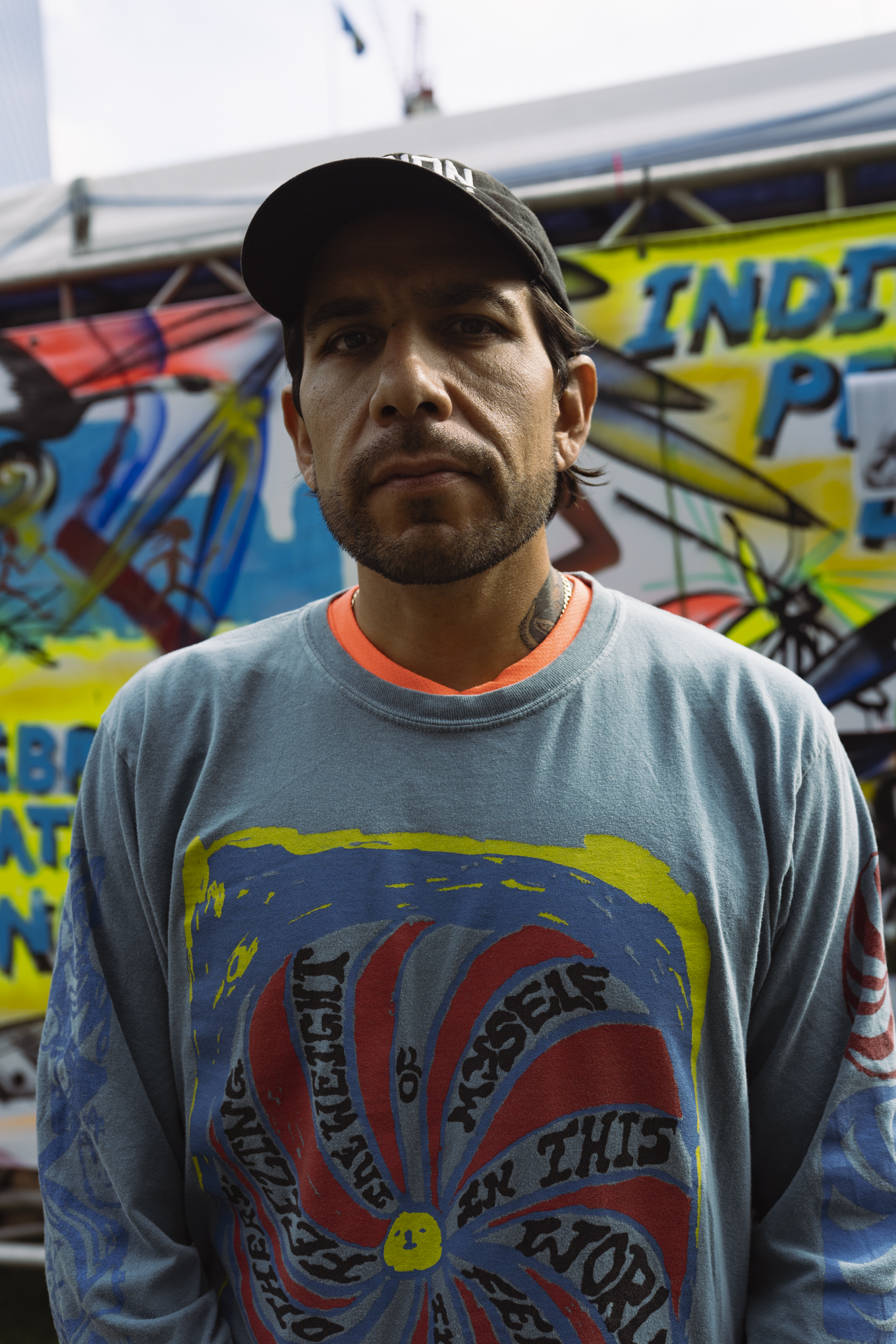 See them as they
want to be seen
The arts are a powerful medium for Indigenous visibility. After waiting two-and-a-half years for the return of the Boston Marathon, and given this year's race was rescheduled on Indigenous People's Day, 2021 seemed like the right year to make a statement. "When you think about it – a 26.2 mile course – there's gotta be a wall someone's gonna let you put a mural on to specifically commemorate Ellison," says Martin. His hope was there was going to be a wall with an actual mural on it.
What ultimately came of Martin and Field's conversations with the B.A.A. was a 35-foot billboard-sized vinyl canvas in the center of Copley Square – less than a block from the finish line. Over the weekend, Fields and Peters painted over the white canvas with digital images of Indigenous runners, mixing the past, present and future together. "I like the collaboration," says Fields, who painted natural elements and punches of neon graffiti alongside Peters' portrait of Brown. "Art and running go hand in hand, they're meditative," Fields says. He's familiar with the landscape of Boston from his time as an art student here, where he first became interested in graffiti aesthetics and landscape painting. Fields allowed the art to unravel itself, and says this mural was completely unstructured with no planning.
For Wings affiliates like Fields, conversations between the artist and public are as important as the mural itself. With the help of Peters, this mural aimed to bring the history of Native people to the Marathon, shining a light on histories that must not be forgotten. Peters carried a responsibility to portray an accurate image of Brown, in kinship with Brown's family.
Peters says: "I want to have control over the depiction of my own people."
Fields and Peters didn't intend to paint a static mural but rather a living, breathing art installation with living, breathing Indigenous People (including dozens of Wings of America members) who were here to talk to the community and answer questions. "This is about making contact with the public and having an exchange of ideas," says Fields. History is rewritten in the present and gives life to their future. Martin reflects on the Indigenous and Native runners on the mural, and says their legacy will be good energy for his impending marathon. "The way I'll be able to run this race, is a way I never have to before," says Martin. "If you put energy into this and think about others in the process, it will come back to you."
"We're gonna get a lot of spirit back," Peters says.
Martin agrees. "For sure, man."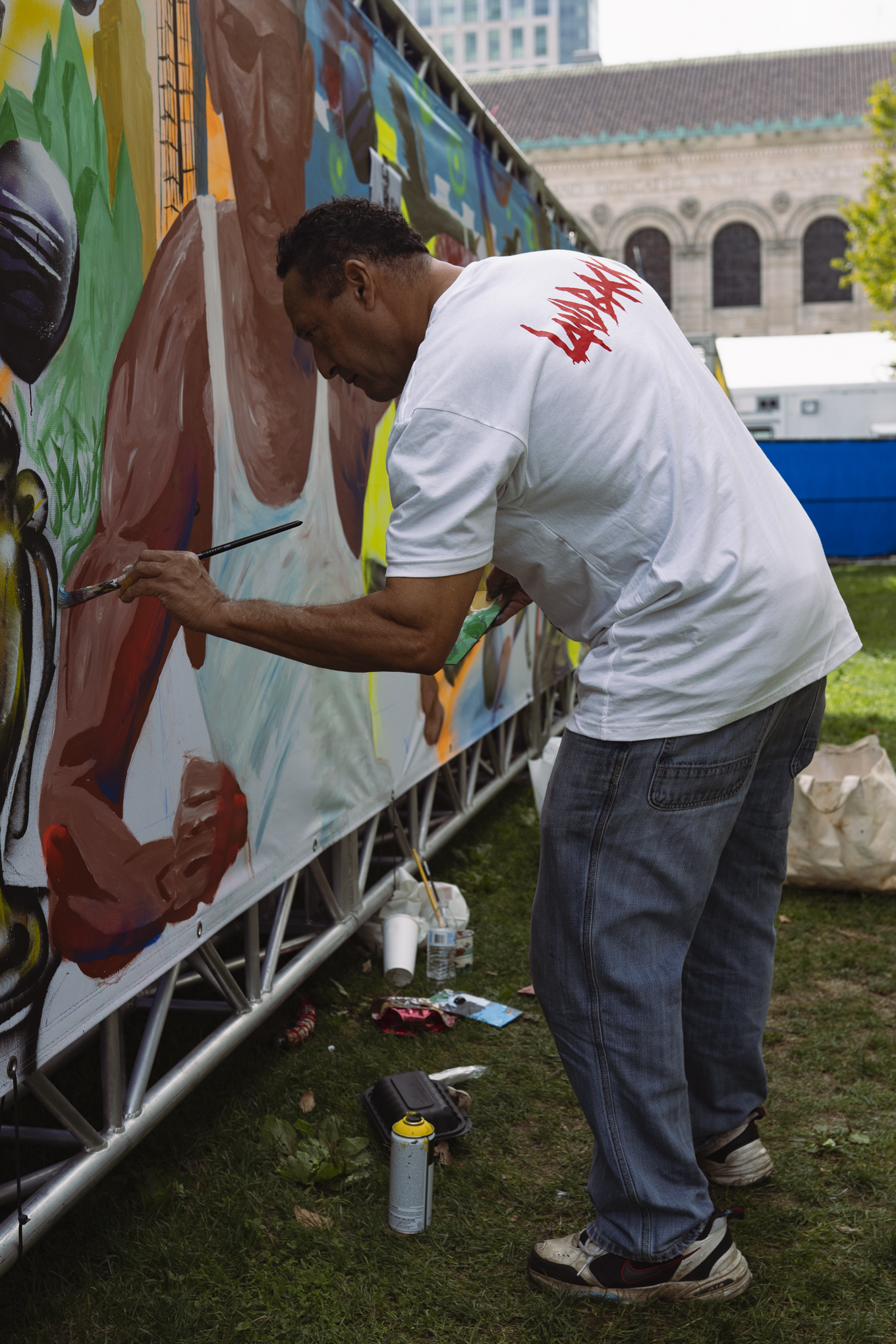 Mashpee Wampanoag artist, Robert Peters
Stretching their wings
so they can fly
When Martin was growing up in Gallup, New Mexico, the elementary schooler saw Wings runners competing in races but didn't necessarily know they were getting support from the organization. All he knew was he wanted to be a part of the culture. Once he was old enough, Martin was selected to be on two Wings National Teams and ran fast. He travelled with a team of other talented Native runners to Boulder and New York City and eventually pursued a NCAA Division-I running career. Martin graduated summa cum laude from Columbia University, racing on the same course he first competed on alongside his peers with Wings National team. "Wings did a lot for me," says Martin. "Wings still does that. We find the best talent we can. But I also like to think during my time with Wings over the last ten years, people see our program as a way to teach young ones why it's important to run, even if they're not racing."
As a society, Martin thinks we're getting further and further away from young people seeing the value of taking inventory of their ancestral land. "People don't know their landscape intimately until they've walked it, ran it, and spent time on it," says Martin. Running allows us to have a relationship to land, where we live and can improve our spatial awareness. "If people try to mess with your land, you know they're messing with it," Martin says. He believes when a kid is eight years old, they shouldn't be learning to train 50 miles-a-week so they're 'good' by the time they're 16. "They should just learn to go out there because of people like this," Martin says. He points to the mural: "They did it before them."
Earlier in October 2021, the B.A.A. publicly apologized to all Indigenous people who have felt unheard, or felt the importance of Indigenous Peoples' Day was erased by scheduling the Boston Marathon on the same day. For this year's race, the B.A.A. asked Patti Dillon (Mi'kmaq), one of the five Native runners represented on the mural and a member of the Wings board of directors, to fire the starting gun, demonstrating the B.A.A.'s effort to honor Native American achievement.
A three-time Boston Marathon runner-up, Dillon placed second in the women's division the first time she ran the race in '79. Dillon went from having never run a race to being a world record holder in the marathon, in less than eight years. "How do you end up as the first American woman to break two-and-a-half hours in the marathon, like she did at New York?" Martin wonders. "From my perspective, as someone who runs a youth program for Native youth, it just makes it so apparent to me how much untapped potential is still out there."
After Wings was invited to help celebrate the 80th anniversary of Tarzan's first win during the 2016 Boston Marathon, Martin was inspired to find a way to use the "world major" to encourage Native youth runners to set lofty goals. He approached the B.A.A with an idea he called "Pursuit Program," where they'd select a group of five promising high school juniors who also demonstrated a passion for running and expose them to the supersonic inspiration that comes from Marathon weekend while helping them plan for their futures. With the support of the Harvard University Native Program (HUNAP), selected students would tour Boston-area colleges and run the B.A.A. 5k before spectating the marathon.
Sadly, the pandemic broke the streak of the "Pursuit Program," but Wings and the B.A.A. continue to invest in programs that tap into the potential development of their youth.
Listen to their
painted pictures
In 2019, before she raced the Boston Marathon, Jordan Marie Brings Three White Horses Daniel (Kul Wicasa Lakota), one of the "historical" runners represented on the Wings mural, painted a red hand on her face. She painted big red letters on her legs, spelling out MMIW, in honor of Missing and Murdered Indigenous Women.
Murder is the third leading cause of death for American Indian/Alaska Native women and having access to law enforcement databases to collect this information is opaque. Daniel wanted people to look and listen. She dedicated each mile to one of 26 sisters taken from her Native communities and during these 26 miles, she said their names with a prayer. Native lifeways have persisted through oral traditions, where people rely on the spoken transmission of knowledge and culture. Daniel told Indian Country Today, "I'll paint this movement on my body, in the color red, and use the red handprint on my face to break the silence of the violence happening." Daniels and members of Wings exemplify the fluidity of oral tradition by using running as a way to move forward, but also to raise their voice and reconcile with our past.
Martin, Daniel and many Native runners carry the weight of responsibility for their people to be visible. Being visible usually requires them to run fast; Martin recognizes when they win the Boston Marathon or even get second three times [like Dillon], people listen.
"When we crossed the line that first year, people were like, 'Oh shit, we didn't just give them charity bibs to jog.'"
Martin aims to teach Wings youth that running is important not only to familiarize themselves with their ancestral landscapes, but also as a way to help others. "You can run for others in competition if that's what your heart tells you to, but you should also be running for an entire lifetime. Two generations ago, that's what our family members had to do. There was an endurance inherent in that lifestyle. That's still part of who we are today."
With the platform to speak up in Copley last weekend, Martin considers how to wield his own voice. "We could talk about food deserts and health inequities and all this other shit. But this is also who our people are," says Martin, as he points to Daniel, Brown, Dillon and the other Indigenous runners on the mural who stride forward unfraid. "For me, to tactfully recognize this history is not easy: to make sure relatives and those still living feel like their relatives' legacy was honored."
As for the marathon, Fields, the artist of the mural Fields says, "I'm ready for it, just trying to keep the nerves down." His goal was sub-three hours, but he wasn't concerned as much with a numerical achievement. "I often cry when I run. We hide into a lot of grief and suffering. We don't like talking about that in this society, we actually do the opposite." He said he felt ready to release his emotions, and recognizes the stored, bodily component to grief and trauma. On Monday, Wings of America put it all out there on the street for 26.2 miles, continuing to expand its visibility in Boston and around the nation. For the Wings team, running is a spiritual experience to reconnect to the land and heal their relationships with each other.
---
To learn more and get involved:
Wings of America website, IG: @wings_of_america, Twitter: @WingsofAmerica
Follow Yatika Starr Fields (IG: @yatikafields)
Email Dustin Martin (dustin@wingsofamerica.org)
---
In the 125th Boston Marathon, Martin ran 02:28:26 and placed 58th overall, and Fields ran 3:08:54.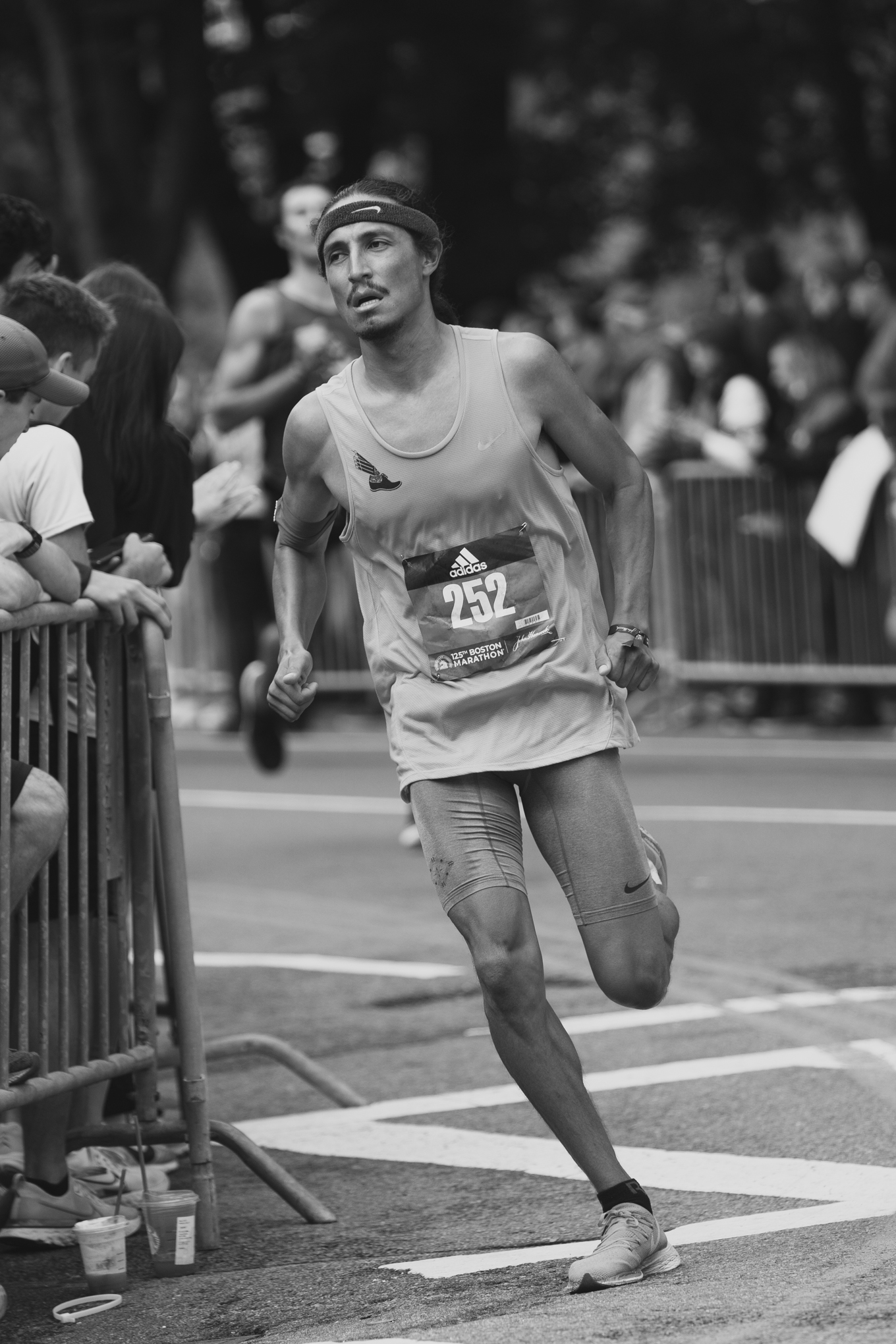 Dustin Martin Pictured Above