The OG:
Wilson Kiprugut
Words and Photos by Sarah Gearhart
Kenya's first Olympic medalist was a sergeant from the countryside. Middle distance runner Wilson Kiprugut reshaped the nation's athletics reputation in one minute and 45 seconds at the 1964 Tokyo Games – a narrow mark in history, but one that cemented his name among Kenya's legendary athletes.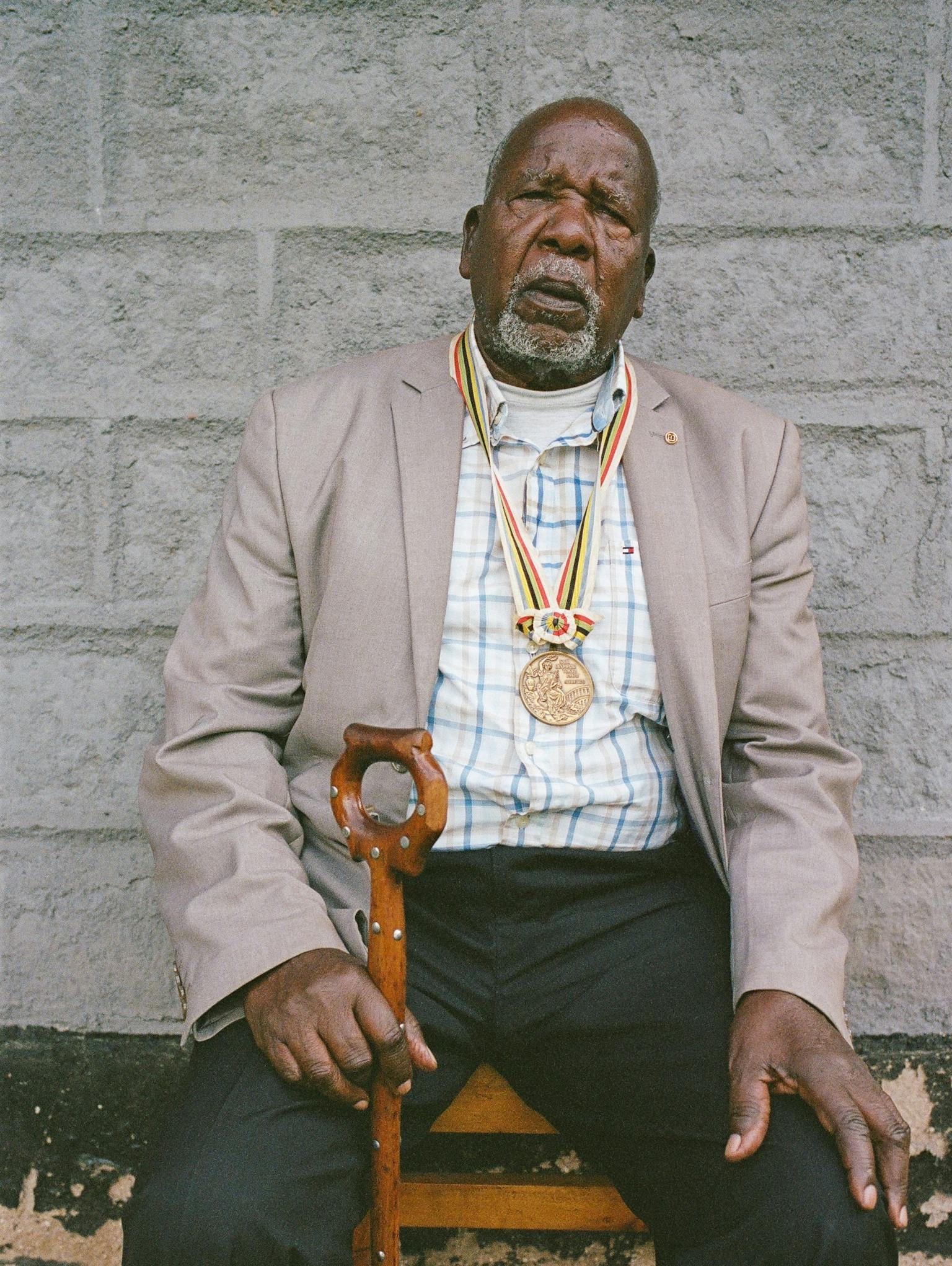 A white goatee traces Wilson Kiprugut's chin and circles above his lips. Those lips move gingerly just like his feet; these days the 83-year-old relies on a cane to maintain balance. Gone is the short black hair of his youth. His dark brown eyes were wider back then. His vision continues to fade as does his ability to hold a pen, but his mind hasn't slipped. When Kiprugut digs 57 years into his memory, his voice is soft and light as he recalls his experience competing in the 1964 Tokyo Olympics.
He remembers the way he stood in the tunnel joking as he waited to be called to the start line with seven other men for the 800-meter final; the crowd inside the National Stadium erupting with chants of "Kenya!Kenya!" and the feeling of soft ribbon bearing a small weight dangling from his neck as he stood on the podium flashing his ivory teeth.
The 1964 Olympics in Tokyo marked the first time the Summer Games were staged in Asia. Japan welcomed nearly 100 countries and more than 5,000 athletes. Yoshinori Sakai, a 19-year-old collegiate runner at the time, served as the final torch bearer, chosen for the fact that he was born the day the atomic bomb exploded in Hiroshima on August 6, 1945. When Sakai lit the cauldron on October 10th, it was considered one of the Games' most dramatic moments – a simultaneous call for world peace and a signal for the official start of the 18th Summer Olympics.
Kenya, independent from British rule for just 10 months, had sent middle distance runner Kiprugut, a member of King's Africa Rifles (now the Kenya Defence Forces), to compete in the 800m. This was Kenya's third time participating in an Olympic Games. For two occasions prior, the country had closed its participation without the honor of standing on a podium. Kiprugut was prepared to amend the story of the medal-less nation.
He had come a long way from where he was born and raised in Kericho, located at the edge of the Mau Forest, on the western escarpment of the Great Rift Valley. The area is lush with wide fields of emerald maize crops and mostly recognized for its immaculate bushes of tea plantations, so picturesque they look unreal. Kiprugut, who grew up as one of seven siblings, got his start in running as a student at Kaptebeswet Primary School and continued athletics at Sitotwet Intermediate School. Running, though, was something he mostly did out of necessity – five kilometers one way in the morning to school; another round home in the afternoon. His talent was scouted by the King's Africa Rifles when he competed in the 800 meters at the 1958 East African Championship in Tanzania. Thereafter, Kiprugut joined the military, training as a track athlete alongside other members of the army while he worked his way up to the rank of Senior Sergeant. By 1962, Kiprugut was primed for his intercontinental racing debut at the British Empire and Commonwealth Games as a member of Kenya's 4x440 yards relay team, which placed fifth.
Kiprugut matured his athleticism with training ideas borrowed from fellow competitors who became friends. He complemented his preparation with guidance from fellow officers. When Kiprugut earned the opportunity to compete in Tokyo, he says, "I knew I would make something good." His intuition and confidence were thick, even before he stepped inside the airplane in Nairobi, bound for Japan.
The ease of qualifying out of heat one – he clocked 1:47.8 – inched him closer to proving it. He made it through the semi-finals even faster, 1:46.01, earning a spot in the final. Though Kiprugut had never raced against any of the seven other men who had qualified out of their respective heats – six first rounds and three semi-finals – he felt well prepared when he woke up on October 16th, 1964, the day of the final. Kiprugut remembers thinking, "I have two legs and they have two legs. I can make it...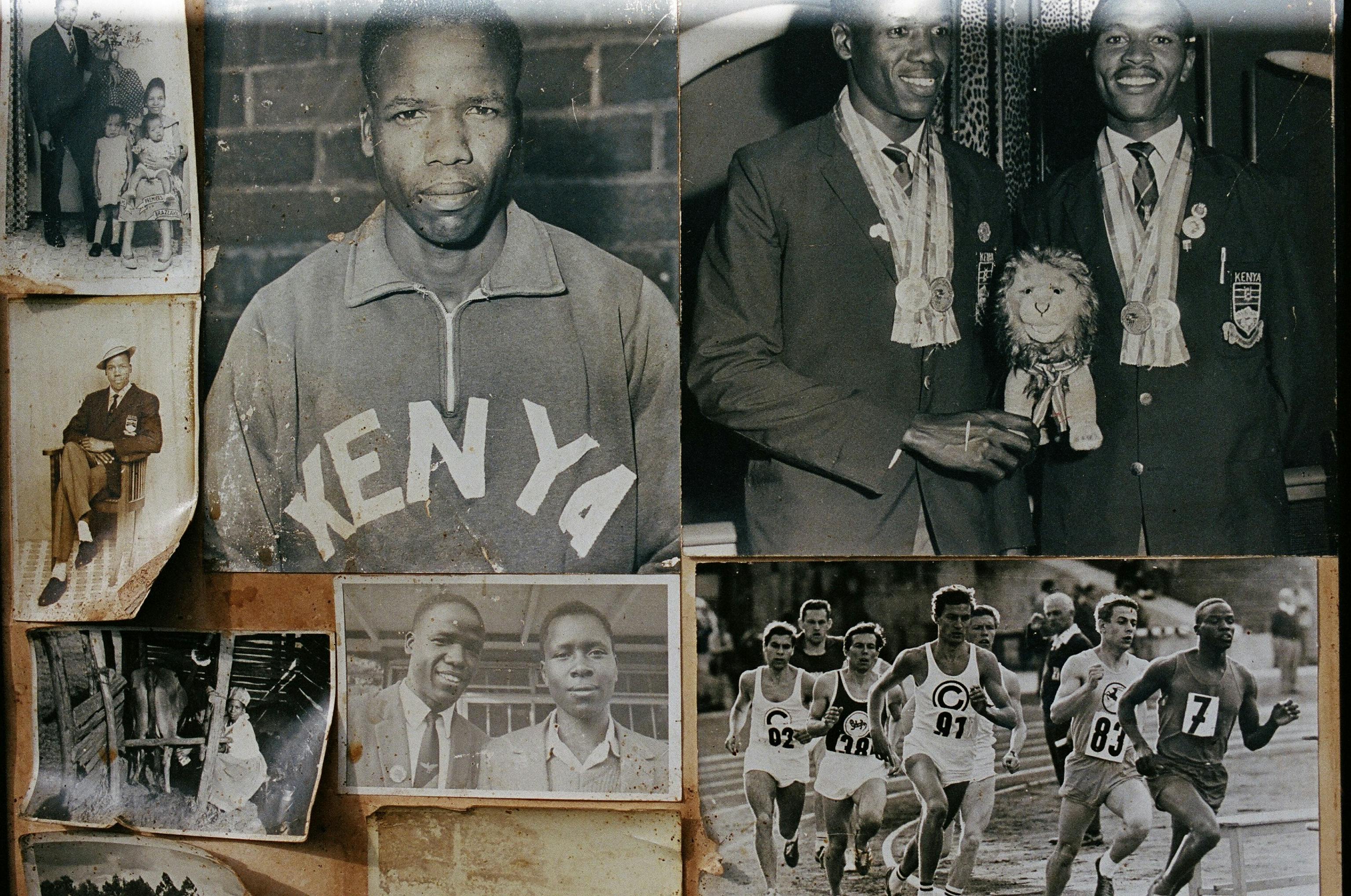 The race, one of seven men's track events at these Games, took place at Tokyo's National Stadium at 4:40 p.m. Kiprugut stood wearing bib 386 alongside defending champion Peter Snell of New Zealand, Canadian Bill Crothers and Jamaican George Kerr.
"There was a bit of tension, but I was not scared," Kiprugut recalls. "The moment you get scared, you'll never run. Your legs start shaking. Or you fear your competitor. You have to focus. I was focusing on the line."
The men took off from a crouched starting position in front of boisterous spectators, legs immediately darting full throttle. Kiprugut led the pack. Race favorite Snell's plan to pull ahead, was thwarted when he became boxed in along the rail.
By lap two, Snell had found his way through to the front. Kiprugut remembers Kerr's elbow bumping his chest. Karma slapped him for racing dirty. Kerr stumbled, slightly disrupting Kiprugut's rhythm. Kiprugut recovered from the blunder though and continued shifting gears.
On the back straight of lap two, Snell unleashed his signature powerful stride (so aggressive, in fact, that teammate John Davies had witnessed his feet tearing into the cinder track five days later, when Snell won gold in the 1500m). Snell's burst of speed propelled him three meters out of range from Crothers and Kiprugut, who ran second and third respectively. Kiprugut recalls hearing the crowd erupt with cheers, shouting for his country. His effort pulled him through the home stretch as he dipped across the finish line with a time of 1:45.9. Suddenly Kenya's unmarked Olympic history on a podium was no longer blank. Third place: bronze was a victory.
Kiprugut laughed as he stood on the podium, raising his hands above his head in a folded prayer as the Kenyan flag was hoisted for the first time. "I became very happy when I won a bronze medal. It was ours. The only one," Kiprugut says.
Other athletes had suggested that Kiprugut report the Jamaican's unsportsmanlike conduct. Kiprugut refused. "I said, 'Why? I've got this medal. This is enough. And I thank God,'" he says. It's important to forgive, he adds. "That's what I had in my heart."
By the time Kiprugut landed at Embakasi Airport (now Jomo Kenyatta International Airport) in Nairobi, he was carried by a dozen Indians, members of Kenya's Olympic field hockey team, who toted their hero from the plane to the airport lounge, then to the bus – every one of them dressed in a suit jacket, collared shirt, tie and slacks. Kiprugut grinned as he was lifted onto their shoulders, an emblem of possibility.
Kenya would go on to amass more than 100 medals at successive Olympics – including Kiprugut's silver earned four years later in Mexico City – the most of any country in Africa. He stepped away from athletics in 1969, thereafter continuing his service in the Kenya Army as an athletics instructor until 1974, reaching the rank of Warrant Officer II when he retired.
These days, running is a distant, happy memory, and Tokyo remains a world away from the rural Rift Valley. But this summer, while there will be fewer chants of "Kenya!Kenya!" reverberating around the Olympic stadium, the chant will still be heard across every small town and city in Kenya, and Kiprugut will be there chanting too, knowing that he sowed the seed of his country's continued success.